When you play guitar, you automatically acquire gas. What's gas? Gas stands for "Guitar Acquisition Syndrome" and is a common thing among guitarists! You will realize that you just can't stop buying guitars at one point. You always need this very special telecaster with a bridge humbucker because you need this sound for your new band (of course), or get another stratocaster in candy apple red as this color is just stunningly beautiful. On a serious note: of course you don't need so many guitars most of the time – but like with all awesome hobbies, there's nothing wrong with investing surreal amounts of money for it. This is why I amassed quite an amount of guitars in my collection during the last decade. I just love buying and selling gear, so I want to present you my guitars I've owned so far in my guitar-life!
One of the best of my guitars: ESP KH-2 Ouija

This was one of the rarest of my guitars: one Ouija of the first run of ESP KH-2 Ouijas! These are Custom Shop KH-2 guitars that are modeled after the one played by Kirk Hammett on stage, with the mysterious Ouija board paintjob on them. Back then there were only 100 of them world-wide: 50 with the rising moon inlays (see above) and 50 with the regular KH-2 skulls. As they are extremely rare I was very happy to find one in the classifieds of Musiker-Board and made it one of my guitars!
---
Different ESP KH-2s


I have to admit (all fanboy-ism aside) that the ESP KH-2 is the perfect guitar for me. It just provides me with the perfect mix of sound, handling, attack, clarity and low-ends. They're also built perfectly well! This is why I added a total of three KH-2s in my career to my guitars so far: a Custom Shop Bolt-On, a Custom Guitars Bolt-On and a Standard Series Neck-through. Surprisingly, I really prefer the cheaper bolt-on version to the neck-through (the attack sounds better and more direct in my opinion). Nowadays I only have one KH-2 left (the Custom Shop Bolt-On), but this is the best one of my guitars I've ever played. Period.
---
The first of my guitars: Yamaha RGX121FP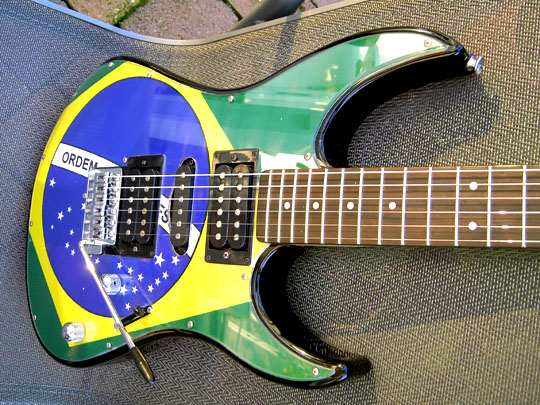 This is where it all began – the very first of my guitars I've ever owned! I bought it off eBay for relatively cheap, combined with a Peavey Envoy 110 amplifier. The awesome thing was that the RGX121FP had a see-through plastic-cover with a sheet of colored paper below it. So you can basically exchange the design of the guitar on your own as often as you want! I really liked it and can recommend it as a start for everyone.
---
ESP LTD EX400

This was the second of my guitars I've bought. I was really into Metallica back then and saved some time to buy this explorer-styled guitar new from the store. Although it was not exactly like Hetfield's explorer, the EMGs really pushed the amplifier to its limits. A great sounding guitar with a very solid craftmanship!
---
ESP Vintage Plus Stratocaster

I basically had this guitar model twice(!) in my life. I always knew I needed to have a seafoam green stratocaster in my guitars collection and just love the ESP Vintage Plus Series. Once a forum buddy from the USA sold his, I jumped on it and had it shipped all the way to Germany. Sadly I decided to sell it a year after and made a huge mistake by doing so. This is why I realized I have to get one again – and so I bought another one off German eBay thereafter. I still own it and love the neck (very close to the KH-2 neck) and will not sell this one!
---
Gibson Les Paul Custom Black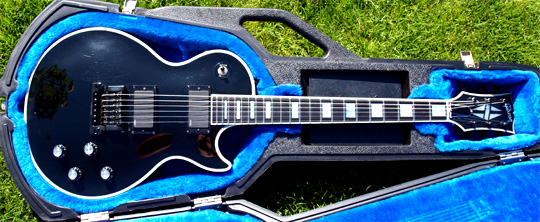 This Les Paul Custom was kinda odd at first. It was made back in 1987 and did not have any pickups installed – instead it had a midi pickup and was some kind of prototype. I got it cheap and had it modded by the awesome Guitar Service in Karlsruhe, Germany. I had humbuckers installed and from then on had an awesome Gibson Les Paul Custom for a great price! I sold it eventually around two years later as my tonal preference changed more towards superstrats. It still was one of the best looking and sounding of my guitars!
---
Gibson Les Paul Custom White

Another one of my guitars that looked odd at first. When I got it it was a special edition with abalone-covered P-90s in the size of humbuckers. I quickly exchanged the whole hardware to make it look like the iconic white Les Paul Custom. It was an awesome-looking guitar with some great GFS humbuckers – check them out, they're a great bang-for-the-buck! I also sold it after some gigs due to the changes in my guitar tone taste.
---
The oldest of my guitars: 1974 Gibson Les Paul Standard

One of the most awesome of my guitars: a 1974 Gibson Les Paul Standard! This one is a rarity for two reasons. First, there have been only very few Standards back then, most of the Les Pauls were Deluxes with Mini Humbuckers installed. Second, according to the prior owner it was owned by Steve Hackett back in the 70s! And above all of it, it has a great vibe to it and sounds just extremely beautiful – especially with the neck humbucker on.
---
Gibson Les Paul Pacific Reef

I had to get this one as soon as I saw it! This was a special run with some odd colors that Gibson produced some years ago. One of these colors was "Pacific Reef", a mixture of turquoise, blue and green on a beautiful flamed maple top. This and the ebony fingerboard made it a great looking guitar that sounded good as well. Also, one of my guitars that I sold due to other tonal preferences.
---
Fender Custom Shop 1956 Strat

I always loved Fender's custom shop guitars – they're so well-made that I just had to have one. I got this 56 Strat on eBay for a very low price and played it quite a while. As you see, it had all the case candy and was in a near new condition. I eventually sold it to a good friend of mine as I didn't like the very thing spaghetti frets and the thick neck. This has nothing to do with its quality though, as it was really superb!
---
Fender Custom Shop Dick Dale Stratocaster

I love surf music – the Ventures, the Surfaris and (of course) Dick Dale! So when I discovered a Fender Dick Dale Strat that was just missing the guitar neck I had to buy it! In addition I got an awesome flamed maple guitar neck on eBay and made one beautifully looking strat out of it. I really loved its looks and feel, but eventually sold it as well as I needed to have another guitar to fit the style my band played back then better.
---
RAN Custom HiVision

Some of you might know Ran Guitars, a custom shop based in Poland. They build some very awesome guitars built exactly the way you want them to be. Before I had my own guitar built by them (see my explorer below) I found this gem on eBay and bought it. Modelled after a Tom Anderson superstrat, it had an awesome mahogany body with a flamed maple top. Add some EMGs to the mix and a Schaller Floyd Rose, and you got a great guitar!
---
RAN Custom Explorer

Okay, this one was awesome. I ordered a custom explorer at Ran Guitars back in the days, and had them make me a custom explorer guitar with a beautiful bubinga top. Everything was custom made for me – the sun and rays inlay, the neck shape, the controls and so on! It really turned out great, with an awesome sound a feel to it. Surely one of the best of my guitars!
---
Kramer Stagemaster

This superstrat is one funky offspring of the 1980s! It is basically the predecessor of the current ESP Horizon series with a neck-through construction and a Floyd Rose system. On top of that it has an ebony fretboard, custom inlays and a great looking flipflop blue color which changed from blue to red in the light. To be honest, this one was quite a bargain as it offers awesome features for a low price. If you like the flashy look, definitely an awesome buy!
---
Kramer American Pacer Guitars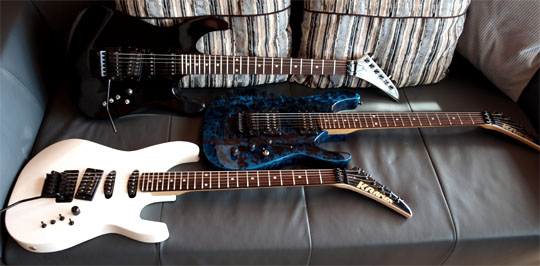 I have to be honest here, I've owned a total of four different Kramer Pacers throughout the years. They're awesome guitars: different pickup combinations, original floyd rose vibratos, great necks, "made in USA" and affordable at the same time. I had two black ones, a white one and one with an awesome blue whirlwind finish. If you're in the market for an awesome superstrat, definitely give these a try!
---
ESP M-2 Urban Camo

This is one of my guitars I still use on stage. Back when this camo-finished ESP M-2 came on the market in the early 2000s I knew I had to have it one day. It's a neck-through construction with an ebony fretboard, two EMG 81s and a Floyd Rose vibrato. The finish is up to your personal taste, but I just love it! Surely one of the best of my guitars I've owned.
---
Charvel SoCal Stratocaster

When Charvel released this new SoCal series of superstrats, they really knew what they were doing. These guitars are just great deals. You got a US-made superstrat with a great build quality, awesome hardware and pickups and one of the best necks on the market. Because it just had an oiled neck, it felt just perfect to play. Mine was used and the former owner had a nice "American Flag Finish" applied to it. I really loved this finish so I had to buy it! I sold it to a very nice dude that plays in an 80s band though.
---
Ovation Acoustic

Just like most guitarists I needed an acoustic at some point (for the ladies! :D). I always loved the look and feel of Ovation guitars and got this one in an awesome blue finish for a great price off of eBay. I still have it and love to play some old school acoustic songs on it.
---
Fender Jim Root Signature Telecaster

One of my newest additions and my main stage guitar right now! They had this one on sale at my local music store and I got a great deal on it. This pimped out telecaster has two EMG pickups and a great neck, combined with a nice satin finish. It plays and sounds great, also due to the mahogany body it has.
---
Richwood Stratocaster
Many of you might not know Richwood, but they had a vintage series of guitars some years ago that really stood out! For less than 250 US Dollars you got a great guitar with awesome craftmanship and sound. Although one of the cheapest of my guitars, also one of the best deals out there.
---
Richwood Telecaster
The same as above goes for the Richwood Telecaster – an awesome guitar for a very low price!
---